Ukraine initiatives
Our world community is the basis for a peaceful, free and cooperative exchange of knowledge. International law is the foundation of all of this. An attack on the sovereignty of a free country is also an attack on the foundations of science.
As a group of young researchers in Europe we are enjoying our freedom: in science, life, speech, and so much more. The past weeks have underlined in a horrific and evocative way that this freedom can never be taken for granted. There are no words to express our compassion and solidarity with the people of Ukraine, defending our freedom.
We therefore encourage everyone in our networks to contribute to the support of Ukraine, in whatever way possible. To give an idea, we would like to highlight the following initiatives for donation and support possibilities that are related to partner institutions of the Biobased Value Circle:
Professor Andrij Pich from the Institute of Technical and Macromolecular Chemistry at RWTH and DWI-Leibniz Institute for Interactive Materials initiated a campaign to help medical workers in Ukrainian hospitals: https://www.rwth-aachen.de/cms/root/Die-RWTH/Aktuell/~trwsa/Spendenaktion-RWTH-und-UKA-helfen-in-de/?lidx=1
The University Graz agreed to minimize the financial burden for students from Ukraine, Belarus and Russia with regard to the tuition fee and the student contribution. Donation possibilities are listed on the following website https://refugees.uni-graz.at/en/faqs/information-help-and-donation-opportunities/


B4Plastics is awarded the Food Planet Prize 2021!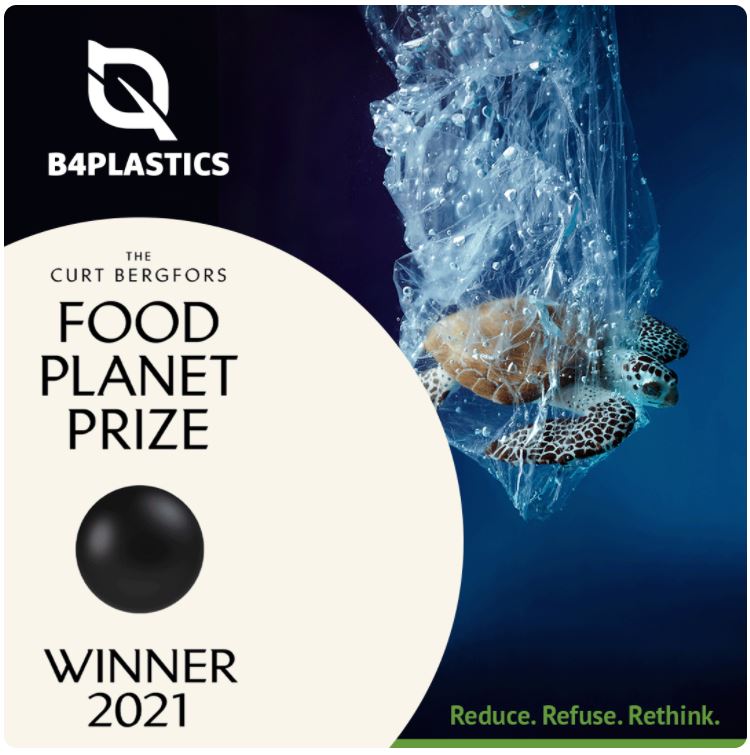 On Thursday 18 November 2021, B4Plastics was awarded the $2 million USD 2021 Curt Bergfors Food Planet Prize for our work in developing biomaterials for degradable fishing gear within the Glaukos project. This is a huge recognition for B4Plastics, as it confirms our potential as biotech scale-up. The excitement of the B4P green team upon receiving the Food Planet Prize is immense. Read the whole story …

7th International Polysaccharide Conference
We are proud to mention all contributions of our PhD's to conferences or fairs.
October 2021 – 7th International Polysaccharide conference from 11 – 15 October.
On the second day Diogo Costa will give a presentation titled:
FACILE PREPARATION OF CELLULOSE AEROGELS FROM AGRICULTURAL RESIDUES